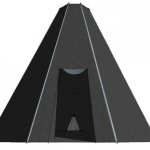 Resized Volcano
Diego Repetto,
Milan, March 2019
The following night I found myself in a nightmare inside a volcano and from the depths of the Earth I felt myself thrown into interplanetary spaces in the form of eruptive rock.
Jules Verne, Journey to the Center of the Earth
The artistic and experiential itinerant installation RESIZED VOLCANO, sponsored by the European Cultural Center ECC, the ANGI Italian-Chinese New Generation Association and the Ideal Spaces Working Group, was exhibited on 24th March 2019 in conjunction with the Kids Sound Fest at the National Science Museum and the Leonardo da Vinci Technology of Milan.
It symbolizes the importance of listening to one's emotions when embarking on a journey with oneself, within the emotional "volcano" that exists in each of us.
The visitor experiences the precise moment of the volcanic eruption, portrayed as an imaginative and immersive snapshot. In addition to the visual emotional aspects, the sound is a fundamental element that enriches and makes the perceptive experience unique.