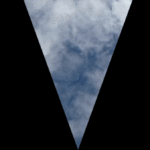 Sky Above The Scene
Hannah Whittaker,
London, March 2019
A large-scale immersive video installation that paints the picture of a world united under one borderless sky.
In a time of borders being strengthened and unions being separated, Sky Above the Scene aims to focus attention on what unites us – appreciating our coexistence under one, borderless sky. Challenging and calling into question our perceptions of other cultures being far removed and 'foreign', while also celebrating diversity and making us think about how our own community is viewed and how we would like it to be perceived.
This installation is the first stage in a larger project which aims to explore representation and documentation as art. The current footage has been gathered by the artist in the position of tourist. In her limited understanding of each location she has selected the audio that will represent that culture in the context of the exhibition. To make this a project of more truthful representation and further extend the study of documentation as art she will seek to crowdsource the footage for future exhibitions. Engaging communities and organisation around the world, asking them to decide what footage, what cultural scene they would like to represent their area.