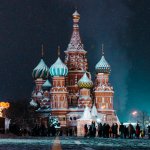 Exhibition
Public architecture: Future Europe
Thu, Jan 30, 2020 | 9:00 am
Sun, Aug 23, 2020 | 10:00 am
Schusev State Museum of Architecture Vozdvizhenka St., 5/25119019Moskva, Russia
(
map
)
The Ideal Spaces Working Group (ISWG) has been invited by the European Cultural Centre to the exhibit at The Schusev State Museum of Architecture.
Our exhibit will be part of a larger exhibition of architecture exploring the theme of 'Public Architecture – Future Europe' which will run from January 30 until May 10, 2020. It will be hosted by the national museum and research center located in the center of Moscow.
More information can be found on the museum website here https://muar.ru/en/item/1747-public-architecture
NOTE: After two months of the closure of the Schusev Museum, due to the COVID 19 restrictions, finally the doors of the Museum reopened to welcome back all the visitors. The Museum gladly agreed to postpone the end of the exhibition to August 23rd, in order to make up for these past months of stop and let the public and the participants enjoy the show for several weeks more. 

Program schedule here
---
Our exhibition had the theme of Community and Place. Communities need concrete individual places to unfold, not just anonymous spaces as they were the sign of modernity. Since community, as opposed to mere agglomerations of people, needs personal relationships. The place was, and is, the problem of modern as well as recent architecture. We nowadays live in an age of super-modernity, states anthropologist Marc Augè, characterized by spatially extended and anonymous transit spaces, non-places as he calls them, making up a significant part of recent architectures. What we tried to do is to present different worlds with places, emerging from the background of a spatial tapestry that extended in an oval over a length of 16 meters.
The Schusev State Museum of Architecture in cooperation with the European Cultural Centre – Russia and the European Cultural Centre – Italy presents the exhibition "Public Architecture – Future for Europe". At the Schusev State Museum of Architecture, the exhibition projects will be displayed in 9 rooms, a few rooms will be dedicated to one single firm or project and in addition, several rooms will be used to present a combination of projects, many of which will be created on purpose for the exhibition. Among the participants, architects and thinkers whose selected works will be presented in the exhibition are: Mies van Der Rohe Foundation, Daniel Libeskind, Kengo Kuma, UNStudio and many more.
Since the opening of the museum in 1934, our venture for the theme of 'Public Architecture – Future Europe' was the most visited, with 800 visitors per week.