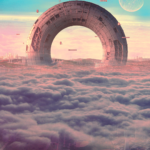 scaLIurbani 2020
Thu, Oct 22, 2020 | 12:00 am
Thu, Oct 22, 2020 | 11:59 pm
Organisation: Order of Architects P. P. and C. of the Province of LivornoSection: Post Pandemic Talks
Following his experience as co-moderator and co-curator, together with the President of the Order of Architects P. P. and C. of the Province of Livorno Daniele Menichini, in the period of the webinar/fiction pandemic and the book "Panglossismo. L'architetto Post-Pandemic Architect", in which a trans and cross-disciplinary confrontation on the pandemic and its effects on landscapes, territories, cities, houses, and objects of use in the near future was developed, the themes of the relationship between "everything will be like before" or "everything will be to be reinvented after the pandemic", new models of living and new ways of dealing with the landscape, cities, buildings and infrastructures were addressed through the experiences and projects of visionary architects.
What will be the future of cities, territories, infrastructures and houses after the pandemic experience we are experiencing? What direction has scientific research taken?
These are some of the questions asked at the Post Pandemic Talks together with Valentina Sumini, Fabrizio Aimar, Silvia Viviani, Tomas Ghisellini, Katia Accossato, Emmanuele Lo Giudice and Annibale Siconolfi in art Iward (www.inward.it).
The key to all the interesting interventions was the concept of eco-responsibility for possible operational models for future architecture.
Valentina Sumini, an Italian architect from the Massachusetts Institute of Technology who designs housing solutions for space (the International Space Station), the Moon and Mars in collaboration with international agencies such as Nasa and ESA. Valentina tells us in an interview with Forbes: "As a designer, I am fascinated by the idea that in space construction conditions are the opposite of those on Earth. I am fascinated by the fact that everything is reversed there because there is no gravity. There is no more floor, ceiling, walls. The greatest force becomes that of internal pressurization. And from the point of view of space design everything changes, it becomes a challenge. But it is also an opportunity to experiment with new design solutions and also to create new tools to create better shapes and materials for a certain type of context".
Another interesting aspect emerged: the perception of spaces and interaction with the external environment.
Post-pandemic architecture is the architecture of eco-responsibility attentive to the multisensory perception of spaces and in which the human environment is in close symbiotic correlation with the natural environment for a total respect of the use of resources present in nature.