Diego Repetto
The exhibition "THE SACRED AND THE GIFT"
The Rodello Arte project, curated by the Fondazione Museo Diocesano with the Colline e Culture association, the Fondazione Santi Lorenzo e Teobaldo and the Municipality of Rodello, now in its seventh edition, aims to reflect in a concrete and dialogical way on the concept of sacred art, its production and the relationship between artists and patrons.
The initiative, born in 2017, has so far gathered around it eighty artists from different parts of Italy and Europe, pertaining to different artistic disciplines. In the first editions, the works produced represented the relationship between the sacred and the earth, the sacred and travel, and the sacred and fragility. The inspiring themes of the fourth two-year period are Sacred and Gift.
Each year the project selects, through a call, artists who are hosted for two days in the Langhe to experience residency with educational meetings led by specialists.
Sacred Mirror
by Diego Repetto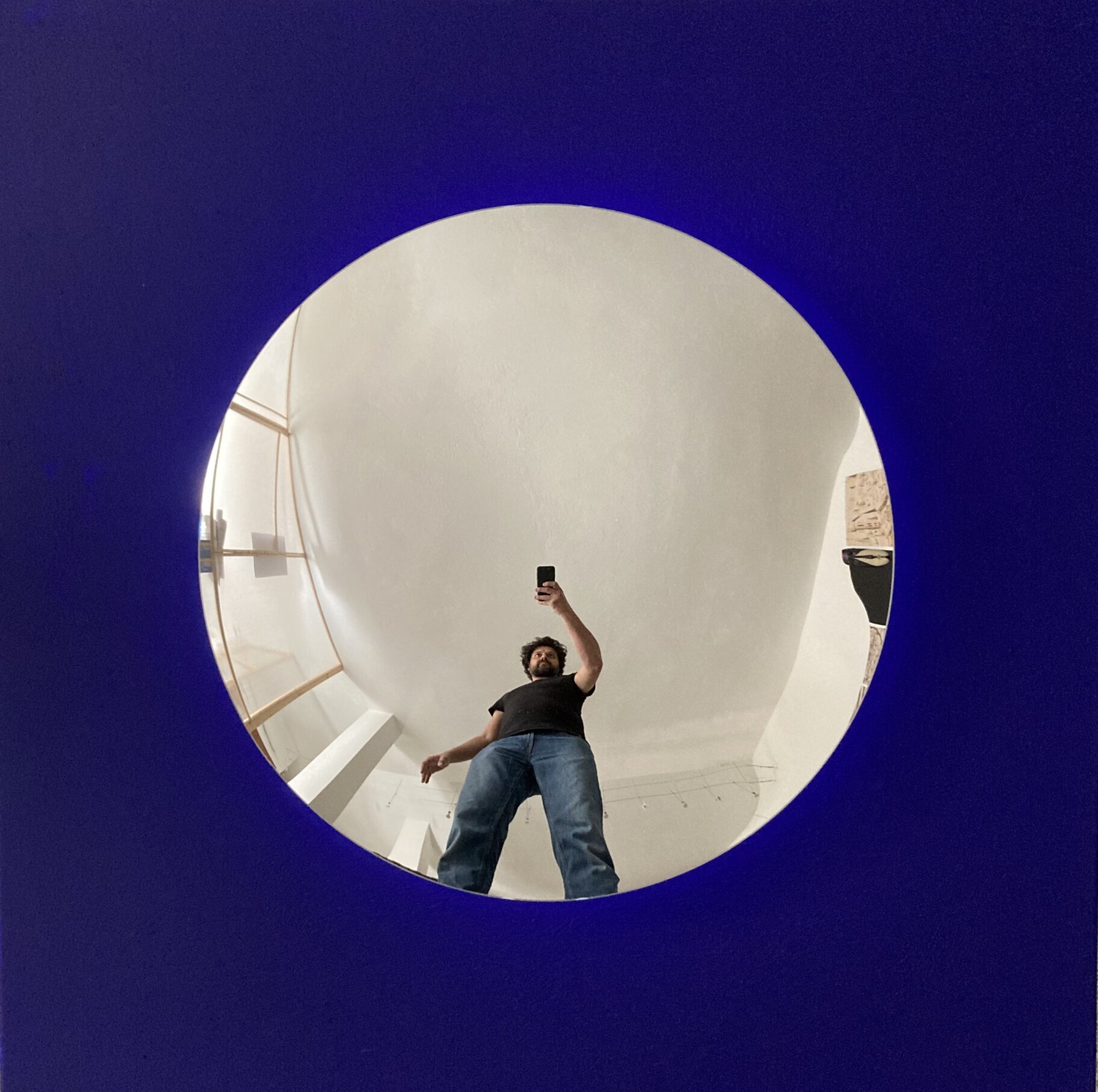 Subject: immersive experiential installation
pictorial canvas painted in a color created especially for RodelloArte
Lighting system with LED shaper and blue transparent tank with demineralized water for projection in the center of the dome;
sound environment (listening through headphones from your smartphone) via QRcode-connected link that refers to the audio track contained in the RodelloArte website.
Accessibility:
tactile, the textural Blue color painted on the canvas can be discovered through touch;
auditory, the visitor is accompanied on a path that from the ideal "mirror of water" makes the eye ascend toward the divine, the center of the dome, through an ad hoc composed track; visual, by mirroring oneself one is projected onto the dome overlooking a space traversed by a ray of blue light (homage to Mantegna's Camera picta) and moving like a sea reflection. As Father Carlo Laudazi suggests in The Theological Dimension of Man in Teresianum (1986): The being and existence of the human person are marked in a radical way by the fact of being the image of God, being a visible form and reflection of the mystery of God himself.
Sacred Mirror is an installation that transforms the sacred environment into an experiential immersive chamber: a mirror of water in which to be reflected placed at the center of the intersection of the nave and transept, below the dome, floats on a canvas painted a sky-deep Blue. Approaching it, lulled by music that finds its origins in Indian sounds, inspired by "Bhairava," one is perceptually projected onto the dome, colored with an intense blue light moved like reflected water, which disrupts the very matter of the architectural element, opening the vision to the celestial vault above. Sound Environment: Luca Marzetti multi-instrumentalist, original composition inspired by "Bhairava" (destroyer and transformer of form), made with the sitar, a stringed musical instrument from northern India.
Technical partner:
Luminum lighting, lighting development;
Piercarlo Odella, color proofing development.
Read more : https://drive.google.com/file/d/1Cq49Qq9a0u2T8VsxjNVMGly-dHAfSZ3M/view?usp=sharing