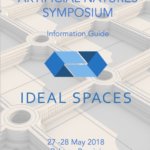 Symposium
Symposium: "Artificial Natures"
Mon, May 28, 2018 | 6:00 pm
Mon, May 28, 2018 | 7:00 pm
Palazzo Rossini, Venice, Italy
(
map
)
Artificial Natures
The topic for this year's symposium is Artificial Natures, ranging from classical ones, such as parks and ideal cities, to garden cities, to new "natural " environments like social media spaces as new public place. The symposium will take place as a combination of short panels and work groups. The general questions are:
What are artificial natures (AN)
Why they are so important today
What has been the history = development of these natures, and why
What have been the common intentions of the approaches
Which forms are emerging today, leaving all "naturality" behind them
What chances AN are offering – for whom, in which directions
Further information on the theme of Artificial Natures can be found here.
Call out for abstracts
We invite people from different fields of interest and professional background to collaborate with us on that topic. Please submit abstracts of no more the 3,000 words around this topic of Artificial Natures to hannahgwhittaker@idealspaces.orgwith the subject line 'Abstract Submission'. We will be accepting submissions until 17th May.
Symposium Registration
To register your attendance for the symposium please fill in the registration form via the link here. Please note that you will need to complete the registration form in addition to sending your abstract submission.
Exhibition
Artificial Natures, Palazzo Mora, Room 7 , 26 May – 28 Nov 2018
The symposium is paralleled by our exhibition of Artificial Natures presented at the Venice Biennale for Architecture, 2018.
In this exhibition, we show an evolution of the idea of creating new 'natural' environments, serving both as a space to live and to engage socially. The spaces are designed as multiple immersive, explorable 'worlds' that fulfill these criteria.
The visitor has the possibility to enter these worlds both virtually and in the physical exhibition, in order to experience their spaces, to gain a deeper comprehension of them, as if they would be real worlds to live in. This allows to make a comparison to the world we live in. Thus, by making the presented worlds to appear real, we want to elicit a critical and pro-active perspective, also in terms of sustainable social participation. By that, we can contribute in shaping existing spaces which become our common and therefore 'natural' environments.